Stillborn & Perinatal Bereavement Lecture – 2023
Stillborn & Perinatal Bereavement Lecture – 2023
Joseph Keane Fund Lecture Stillborn & Perinatal Bereavement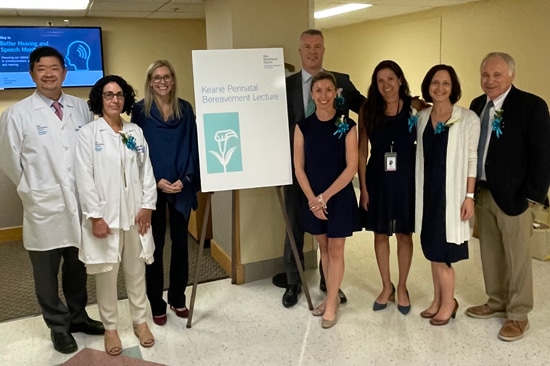 Joseph Keane Fund Perinatal Bereavement Lecture Sheds Light on Compassionate Care & Mental Health Impact at Yale New Haven Health Hospitals.
Bridgeport, May 18 – The Hollander Auditorium at Bridgeport Hospital was the venue for a momentous event that brought together esteemed speakers from Bridgeport Hospital, Greenwich Hospital, Mount Sinai, and Yale New Haven Hospital. The Joseph Keane Fund Perinatal Bereavement Lecture, focusing on perinatal bereavement compassionate care, witnessed the exchange of best practices across the Yale New Haven Health System. The lecture drew an audience of 100 medical professionals, including representatives from Yale School of Medicine.
Steve Jakab, President of Bridgeport Hospital Foundation and Development at Yale New Haven Hospital, expressed admiration for the Joseph Keane Fund, stating, "It is an example of investment, innovation, and impact. It has had a profound impact on our healthcare providers and our families."
CDC research reveals the heartbreak of stillbirth or newborn loss affects approximately 44,000 mothers each year in the United States, and its impact extends far beyond. Lifelong consequences of this loss are felt by parents, grandparents, siblings, aunts, uncles, and the medical professionals involved. (CDC.gov: stillbirths, newborns)
Founded in 2012 by Jessica and Tim Keane following the stillbirth of their son Joseph after a full-term pregnancy, the Joseph Keane Fund is dedicated to promoting compassionate care and implementing standardized protocols for families facing perinatal loss. Jessica emphasized the importance of the work, saying, "Through our program's reach, we are collectively standardizing protocols and ensuring that every family receives the care they need." Tim Keane emphasized the long-term mental health impact, "The data paints a concerning picture, revealing that nearly one-third of grieving mothers will experience PTSD, suicide attempts are three times more likely, and divorce rates increase. This data opened my eyes, and it became our mission to take proactive steps to prevent becoming part of these statistics. The program is designed to not only provide support but also to actively mitigate the severity of mental health challenges faced by families and healthcare providers alike."
The Joseph Keane Fund Lecture, titled "Caring for Families & Clinicians Experiencing Perinatal Loss: Interdisciplinary Perspectives on the Care of the Family with an Intrauterine, Neonatal, or Infant Death," delved into innovative advancements and unveiled new pathways designed to standardize best practices across the entire Yale New Haven Health System. Distinguished speakers discussed clinical pathways including a multidisciplinary approach, mental health supports, and perspectives from patients and providers.
Leslie Shanahan, Perinatal Bereavement Coordinator, has spearheaded the sharing of resources among hospitals, stating, "The exchange of best practices and resources among hospitals is essential in providing comprehensive care to families experiencing perinatal loss." Elisabeth Schneider, LMFT, a Perinatal Bereavement Counselor, emphasized the impact of the perinatal bereavement program stating, "The program plays a crucial role in a patient's healing process and contributes to their overall well-being."
The speakers included the founders of the Joseph Keane Fund at the Bridgeport Hospital Foundation, Jessica and Tim Keane, Dr. Stephen F. Thung, MD, Chairman of Obstetrics and Gynecology at Bridgeport Hospital; Dr. Katherine Campbell, MD, Medical Director of Labor and Delivery at Yale New Haven Hospital; Dr. Angela Montgomery, MD, Neonatologist and Director of Neonatal Intensive Care Unit Palliative Care Program at Yale New Haven Hospital; Dr. Michael Berman, MD, MBI, FACOG from Mount Sinai Medical Center; Kristin Spengler, NP, Neonatal Nurse Practitioner at Greenwich Hospital, Elisabeth Schneider, LMFT, Perinatal Bereavement Counselor at Bridgeport Hospital; and Leslie Shanahan, Perinatal Bereavement Coordinator at Bridgeport Hospital.
To learn more about the Joseph Keane Fund and how you can support it, or if you are a healthcare provider interested in the program or educational series for continuing medical education credits, please reach out for more information.