National Breast Cancer Awareness Month
National Breast Cancer Awareness Month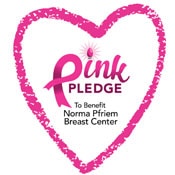 "October is National Breast Cancer Awareness Month", which means it's time for Pink Pledge, the Norma Pfriem Breast Center's annual community-wide breast cancer awareness and fundraising campaign. In addition to raising much needed funds for the patients and programs of the Breast Center, Pink Pledge helps spread the message that early detection is the best prevention.
Activities are held all month in communities throughout Fairfield, Bridgeport, Milford, Trumbull and beyond. Businesses, schools, gyms and restaurants participate. We hope you can attend the September 29 community kick-off at the Sherman Green in Fairfield. Enjoy an evening of music, food and fun activities while showing your support for the Breast Center. On October 7, the annual Stroll for Strength, presented with the City of Bridgeport, takes place at Bridgeport's beautiful Seaside Park. Registration is $25. Form a team and walk with your friends or family members or sponsor a patient.
You might not be surprised to learn that the Breast Center screens over one thousand women each year for breast cancer, at no charge to the patient. Public and private donations make it possible to care for women (and men) who otherwise might not get their annual screening. There is a one in eight chance that a woman will develop breast cancer in her lifetime. An annual mammogram can be life-saving!

Funds raised from the Pink Pledge campaign are utilized to increase access to quality care for individuals in our community who need it most. We hope you'll consider making a donation or participating in any of the Pink Pledge activities by visiting the Pink Pledge website – https://pinkpledge.org and show your support for the Breast Center's work.