Today's older adults are living a much more active lifestyle and advances in healthcare have enabled this generation to thrive. Millions of Americans undergo knee and hip replacements annually with demand expected to increase. Bridgeport Hospital Milford Campus is meeting local community needs with advanced technology and highly experienced clinicians.  Bridgeport Hospital Milford Campus is the only hospital in Greater New Haven to offer Mako® Robotic Arm Assisted joint-replacement surgery.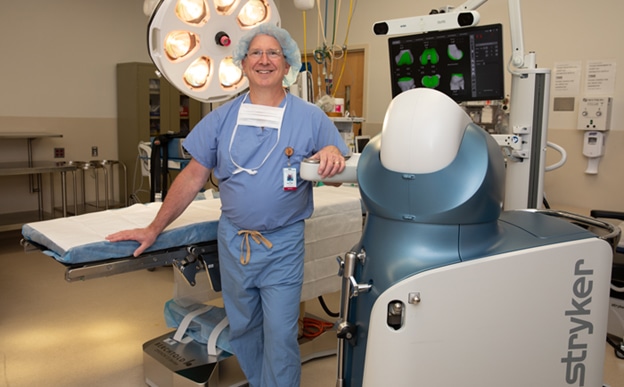 With state-of-the-art technology, surgeons perform minimally invasive joint replacement procedures tailored for each patient. Using information from a CT scan, the Mako system creates a 3D virtual model of the patient's bone structure, severity of disease, joint alignment and surrounding bone and tissue. Robotic-arm assisted surgery results in smaller incisions, more precise implants and increased conservation of healthy tissue. For our patients, this means less time in the hospital post-surgery, minimal scarring and a faster recovery.
Construction has begun on Milford Campus to create a new post-surgical care unit with an emphasis on orthopedics. The renovation will be designed to foster an inclusive, holistic healing environment focused on patient needs. The renovated area will include 12 single occupancy patient rooms, a family lounge, a quiet room, a multipurpose room that can be used for physical therapy, and a conference room for staff education. While the unit will be able to serve a broad demographic, older adults make up the majority of joint replacement patients and their needs will be intentionally addressed.
Our expert orthopedic surgeons use the most advanced Mako® system to perform partial or total knee and hip replacements. Mako® is a trademark of Stryker Corporation.