President's Message – October 2018
President's Message – October 2018
October is National Infant Loss Awareness Month
Did you know that about 1% of all pregnancies end in infant loss and each year about 24,000 babies are stillborn? This often leaves parents and families looking for answers and needing support in dealing with their personal tragedy.
Bridgeport Hospital has partnered with a group of dedicated providers to develop a thoughtful and supportive perinatal bereavement program for our families that provides information and support to help families cope with their loss. This year for the first time, we held "A Night of Remembrance" to honor those babies who passed on too soon. In addition to helping our families through a difficult experience, the program has recently provided training for clinicians to help them better understand the parent's perspective on perinatal loss and the importance of compassion.
If you would like to find out more about our perinatal loss program or to make a gift to the Joseph Keane Perinatal Bereavement Fund at Bridgeport Hospital, please click here. Thank you in advance for your thoughtful support.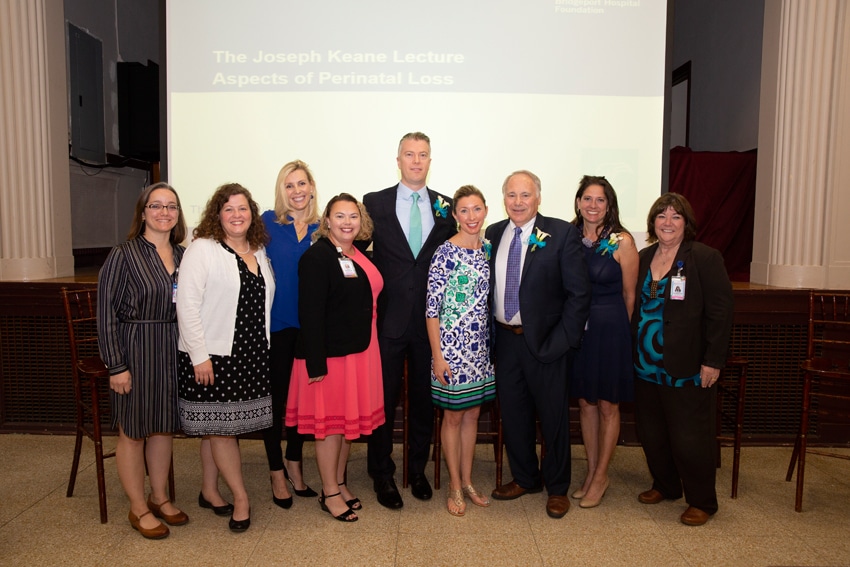 The first Joseph Keane Memorial Lecture: "Aspects of Perinatal Loss"
From left to right Jean Tornatore, MD, Ob-Gyn; Eileen Tarney, Bridgeport Hospital Labor and Delivery Bereavement Committee; Elisabeth Schneider, family therapist and director of family services for the Tiny Miracles Foundation; Kelley Reddington, RN, Nurse Manager Labor and Delivery; Timothy and Jessica Keane; Michael Berman, MD, New York Mt. Sinai Medical Center; Leslie Shannehan, volunteer coordinator of perinatal bereavement services and member of Hope After Loss; Elizabeth Cunningham, RN, clinical nurse specialist.
Click below to make a donation. Thank you for your support!