President's Message – April 2018
President's Message – April 2018
Join us in Celebrating
National Nurses Week May 6-12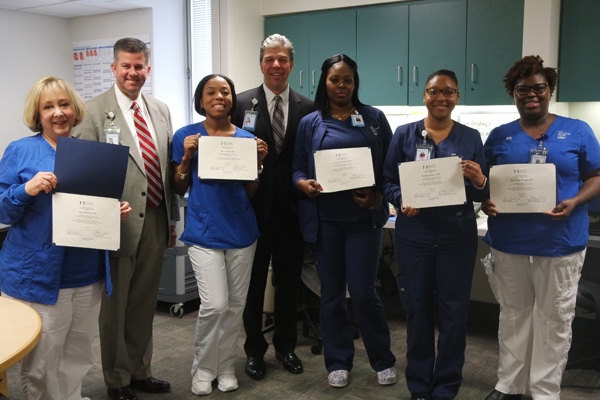 Nurses from Northeast 7 display their Honor Your Caregiver certificates
Caregiver certificates after they were recognized recently with gifts by former patients.
Please join us in celebrating National Nurses Week, May 6-12 with a gift in honor of a nurse that has made a difference in your life.
Nurses are the heart and soul of the care we deliver to patients at Bridgeport Hospital and in the community. In making a contribution to recognize the nurses that cared for her recently, one patient said that Eileen and Lisa "were caring, cheerful and helpful in every way possible." A benefactor commented that "Jen was my nurse…and her support and care got me through a scary and difficult time. Jen's nursing skills, her kindness and compassion are a credit to the Intensive Care Unit and to Bridgeport Hospital. I will never forget what she did for me." Another patient donor wrote: "Karen, I think you have such a fantastic attitude and personality…your purpose is to take care of other people, to make them feel better and you did an excellent job of taking care of me. The best part of my experience…was meeting you."
Please Click here to make a gift. We will send a note to the nurse you honor, making them aware of your generosity while keeping the amount of your contribution confidential.