Katerina Papadopoulos Named Myra Kraft Community MVP


Please join me in congratulating Katerina (Kat) Papadopoulos. Kat, a member of the Clinical Information Technologies team at
YNHH, and a volunteer at the Norma Pfriem Breast Center, is one of 26 New Englanders recognized as a Myra Kraft Community
MVP for 2020.

Every year since 1998, the Kraft family and the New England Patriots have been celebrating those who volunteer and give their
time to help others.

Kat helped kick off the Breast Center's "Have a Heart" awareness campaign and has worked on a number of other projects to
promote and support the Center. The Norma Pfriem Breast Center will receive a $10,000 award from the Myra Kraft Community Foundation.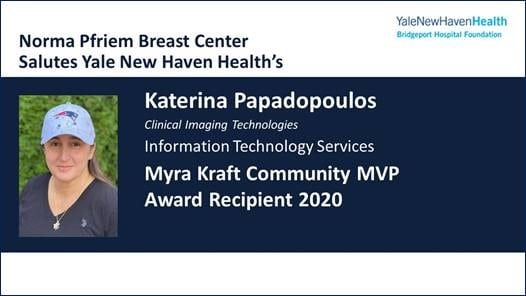 Bridgeport Hospital helps put food on Thanksgiving tables (Text only)
By News 12 CT (11/18/20)

New hospital president and COVID (Opinion)
By Anne Diamond, Connecticut Post (11/15/20)
https://www.ctpost.com/opinion/article/Opinion-New-hospital-president-and-COVID-15726197.php
Bridgeport Hospital restricting visitors due to COVID concerns
By Amanda Cuda, Connecticut Post (11/13/20)
https://www.ctpost.com/local/article/Bridgeport-Hospital-restricting-visitors-due-to-15725325.php?src=rdctpdensecp
'It's just so heartwarming': Milford company feeds 250 hospital workers
By Sandra Diamond Fox, Milford Mirror, NH Register (11/14/20)
https://www.nhregister.com/news/article/It-s-just-so-heartwarming-Milford-15725985.php?src=nhrhpcp
Bridgeport Hospital hosts free food giveaway
By Amanda Cuda, Connecticut Post (11/13/20)
https://www.ctpost.com/local/article/Bridgeport-Hospital-hosts-free-food-giveaway-15724507.php
Two New Members Named to Bridgeport Hospital Board of Trustees
By Staff, CT Patch (11/10/20)
https://patch.com/connecticut/bridgeport/two-new-members-named-bridgeport-hospital-board-trustees
Bridgeport doctors: Pfizer's COVID-19 vaccine appears surprisingly effective
By Staff, News 12 CT (11/09/20)
https://connecticut.news12.com/bridgeport-doctors-pfizer-s-covid-vaccine-appears-surprisingly-effective