| | | |
| --- | --- | --- |
| Milford Campus Centennial Celebration | | |
Happy 100th birthday Milford Campus!
Just over a century ago, Milford was a small but growing, community of about 10,000 residents who needed access to a local hospital.   The Milford Hospital Society was founded by a group of dedicated citizens that quickly responded to that need. On January 17, 1921 the first patients were admitted to the temporary Milford Hospital in the historic Stockade House.   100 years later, the population of Milford has grown to over 50,000 and Milford still has its hospital!  Even though, the hospital merged with Yale New Haven Health System as a campus of Bridgeport Hospital in 2019, the tradition of providing quality, compassionate and patient-centered care remains unchanged.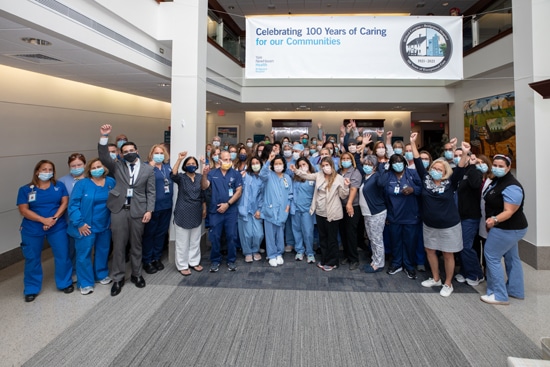 Throughout our Centennial year, we will recognize this important milestone with a variety of traditional and non-traditional celebrations that will be held at our two campuses and in the community.
All funds raised through our events and activities this year will benefit the 3 East Renovation Project at Milford Campus. The former maternity unit will host 12 patient rooms, family lounge, quiet room, multipurpose room used for physical therapy, and conference room for staff education. The function of the unit will be post-surgery care with an emphasis on orthopedics. The rooms are designed to reflect an age-friendly vision that will meet the needs of our aging population.  The age-friendly design includes simple and readable signage, good lighting, non-slip floor surfaces, color and pattern of rugs and furniture contrasting for increased perception, stable furniture,  spacious and clear walkways and rooms, hand railings on both sides of hallways, and appropriate bed heights.