Milford Campus
Bridgeport Hospital
Milford Campus Bridgeport Hospital: An Overview
Just over a century ago, Milford was a small but growing, community of about 10,000 residents who needed access to a local hospital.   The Milford Hospital Society was founded by a group of dedicated citizens that quickly responded to that need. On January 17, 1921 the first patients were admitted to the temporary Milford Hospital in the historic Stockade House.   100 years later, the population of Milford has grown to over 50,000 and Milford still has its hospital!  Even though, the hospital merged with Yale New Haven Health System as a campus of Bridgeport Hospital in 2019, the tradition of providing quality, compassionate and patient-centered care continues.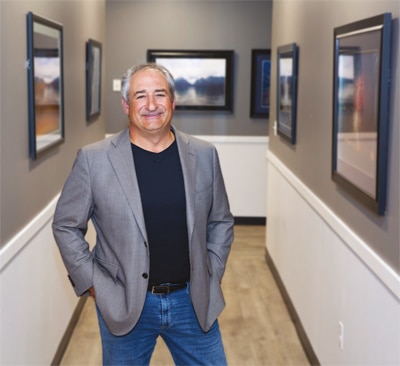 If ever there was a cheerleader for the Milford Campus of Bridgeport Hospital, it would be David Esposito, MD.
Throughout his childhood, Dr. Esposito's mother was a nurse in the operating room at the former Milford Hospital. "She was there for 40 years, so I feel like I grew up in Milford Hospital, "he said.  I loved it. I love the culture and the community aspect of it."
So much so that he returned to Milford after completing his medical training and set up his own practice as a surgeon and co-founder of the Milford Vascular Institute. He is the chairman of the department of surgery and chief of cardiovascular and thoracic surgery at the Bridgeport Hospital Milford Campus and is one of only approximately 130 surgeons in the United States to be board certified in three specialties: general surgery, vascular surgery and thoracic surgery at Bridgeport Hospital.
Because of his long association with the organization, Dr. Esposito is the first to admit that he was not an early supporter of the formerly independent hospital being integrated with Bridgeport Hospital as that facility's second campus in June 2019. "The thought of the small community hospital that I love becoming part of a large health system didn't appeal to me. I was afraid that the culture that made Milford Hospital so special would be lost and become just another cog in a giant wheel," he said.
Today, Dr. Esposito is happy to say that the integration has been a success.
"Bridgeport Hospital has a culture and a community that has been a good fit with Milford, and we've embraced it," he said. "If you liked Milford Hospital before, you will love it even more now that we have all of the resources of Yale New Haven Health behind it. I'm thrilled that the Milford Campus is being included in plans for the future. There are a lot of innovative and thoughtful things happening here now, and it's very exciting to be a part of Yale New Haven Health's expansion of services."
The Milford Campus also played a special role throughout the COVID-19 pandemic, having been designated as a COVID-free campus and used
to free up beds at the main Bridgeport Hospital campus.
Given the importance of the campus to Bridgeport Hospital and the Milford community as a whole, the Bridgeport Hospital Auxiliary organized a
Centennial Celebration last April to mark the 100th anniversary of the hospital's founding in 1921. Funds raised will benefit a variety of renovation and
improvement projects across the Milford Campus. Dr. Esposito and his partners at the Milford Vascular Institute believe that is a cause worth celebrating. Their generous gift to the Foundation will be earmarked for the purchase of equipment and improvements to the Operating Room and other locations throughout the hospital.
As the Bridgeport Hospital Milford Campus looks ahead toward the next 100 years, Dr. Esposito is confident that it will remain a vital thread in the
fabric of the community. "The presence of a high-quality hospital is part of what makes Milford such a great place to live," said Dr. Esposito. "I will do anything to see that it succeeds and thrives. This hospital is part of who I am." 
Today's older adults are living a much more active lifestyle and advances in healthcare have enabled this generation to thrive. Millions of Americans undergo knee and hip replacements annually with demand expected to increase. Bridgeport Hospital Milford Campus is certified by the Joint Commission for Advanced Hip and Knee Replacement, meeting local community needs with advanced technology and highly experienced clinicians.  Bridgeport Hospital Milford Campus is the only hospital in Greater New Haven to offer Mako® Robotic Arm Assisted joint-replacement surgery.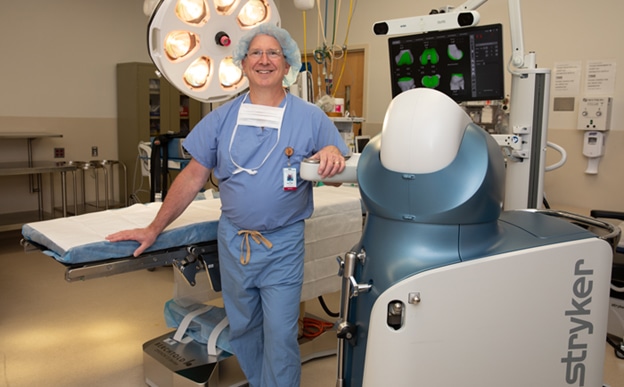 With state-of-the-art technology, surgeons perform minimally invasive joint replacement procedures tailored for each patient. Using information from a CT scan, the Mako system creates a 3D virtual model of the patient's bone structure, severity of disease, joint alignment and surrounding bone and tissue. Robotic-arm assisted surgery results in smaller incisions, more precise implants and increased conservation of healthy tissue. For our patients, this means less time in the hospital post-surgery, minimal scarring and a faster recovery.
Construction has begun on Milford Campus to create a new post-surgical care unit with an emphasis on orthopedics. The renovation will be designed to foster an inclusive, holistic healing environment focused on patient needs. The renovated area will include 12 single occupancy patient rooms, a family lounge, a quiet room, a multipurpose room that can be used for physical therapy, and a conference room for staff education. While the unit will be able to serve a broad demographic, older adults make up the majority of joint replacement patients and their needs will be intentionally addressed.
Our expert orthopedic surgeons use the most advanced Mako® system to perform partial or total knee and hip replacements. Mako® is a trademark of Stryker Corporation.
All Emergency Departments are not the same, which is especially important if you or a loved one are age 65 or older. Bridgeport Hospital including Milford Campus are the only Silver Level Accredited Geriatric Emergency Department in the state.
A dedicated GEMS nurse practitioner facilitates Emergency Department care for you or your loved one by:
Greeting patients and explaining what type of testing may be done.
Working with Emergency Department doctors to provide treatment and determine whether patients need to be admitted to the hospital or can return home.
Ensuring that patients return to a safe environment, whether at home or another facility, with a proper plan of care.
Improving Care for older adults improves care for all patients.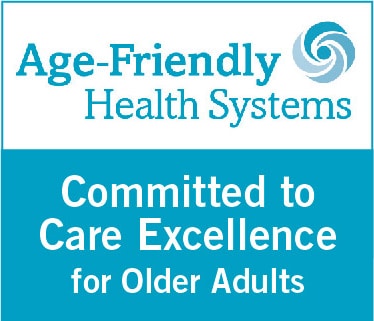 The Institute for Healthcare Improvement (IHI) now recognizes and celebrates Milford Campus of Bridgeport Hospital as Age-Friendly Health System – Committed to Care Excellence. We are recognized by IHI as a leader in this rapidly growing movement committed to care of older adults that is:
• Guided by an essential set of age-friendly, evidence-based practices across the 4Ms (What Matters, Medication, Mentation, and Mobility);
• Causes no harms; and
• Is consistent with What Matters to the older adult and their family.
Thank you for your support!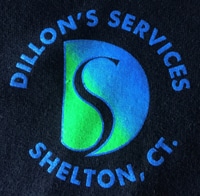 Presented by Dillon's Services
Comfort Carts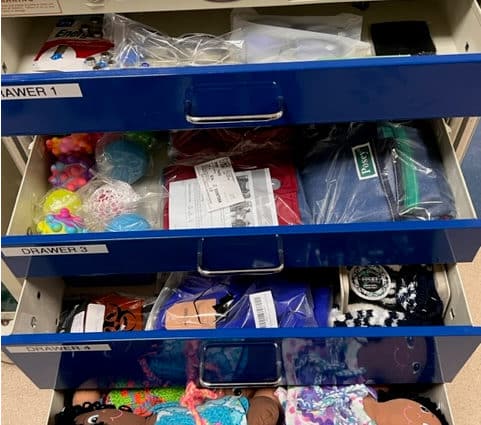 Providing Care and Comfort Studies have shown that patients respond positively to actions that make their hospital stay more comfortable.
With help from donors at both Bridgeport Hospital and Milford Campus, geriatric carts provide low cost, non-pharmacological assistive devices such as hearing aid batteries and amplifiers, reading glasses, coloring books, large font word games, blankets and stuffed animals directly to patients.
Specific Geriatric Medicine interventions along with these patient-friendly carts contributed to both campuses earning Level 2 recognition from the American College of Emergency Physicians as Geriatric Emergency Departments.