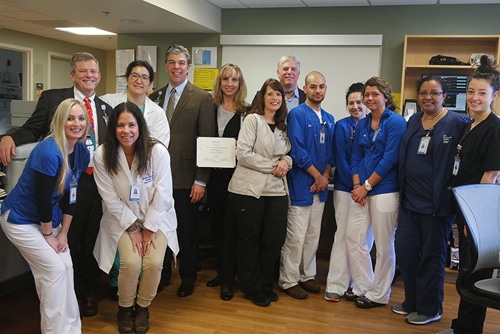 Established in 1973, The Connecticut Burn Center at Bridgeport Hospital is Connecticut's only dedicated burn care facility in the state. It is one of only 66 burn centers in the United States verified by the American Burn Association and American College of Surgeons, and is recognized by the American College of Surgeons and the American Burn Association for meeting the most demanding national standards of burn care.
The Connecticut Burn Center is one of our region's signature medical services with staff and facilities dedicated solely to the treatment of burns. The Burn Center treats more than 200 burn-injured patients in-hospital and receives over 1000 outpatient visits each year. The facility underwent extensive modernization in 2012, including patient rooms and treatment areas and, thanks largely to philanthropic gifts from the community, the addition of an overnight Hospitality Suite for families of patients.
The Burn Center's multidisciplinary staff includes fellowship-trained burn surgeons, nurses with specialized training in burn care, physical and occupational therapists, dietitians, social workers and other healthcare professionals and staff dedicated to the care of burn patients in the hospital and beyond. The burn center also offers support for burn survivors and families through affiliations with the Phoenix Society and the Arthur C Luf Children's Burn Camp.