President's Message – Dr. Manisha Gupta
President's Message – Dr. Manisha Gupta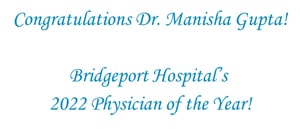 Dr. Manisha Gupta Announced as the 2022 Bridgeport Hospital Physician of the Year!
We are delighted to announce that Dr. Manisha Gupta has been named the 2022 Physician of the Year at Bridgeport Hospital. Dr. Gupta leads our Primary Care Center, which supports the most vulnerable and underserved patients in our community.
After receiving her medical degree in India and continuing her medical studies at Wayne State University in Detroit, Michigan, Dr. Gupta was greatly influenced by her father, also a physician. As a child, she watched her father provide excellent care to all individuals no matter their background or socio-economic status.
Dr. Gupta strongly believes in establishing strong patient rapport and trust. This connection allows her to influence patient lifestyles and health decisions that change the course of their lives. Regarding the future of medicine, Dr. Gupta says "it will be driven by preventive care, with a unique focus on healthcare disparities and factors that contribute to these inequities".
Your Primary Care Center: Best in Class
Philanthropic support for the Primary Care Center lowers barriers and increases patient medical care access.
During the pandemic our outreach and care resulted in better outcomes from COVID-19 than those reported in Fairfield County, the state of Connecticut and the nation. A donor-supported Chronic Care Management team helped decrease hospitalizations and ER visits, reduce hospital length of stay and guide patients to a path of long-term wellness. An emerging focus, also supported by philanthropy, is improved behavioral health maintenance and preventative care screenings.
May we ask you for your help?
The Primary Care Center's work is life altering and life sustaining. It is a critical facet of community health in Bridgeport and among the most important programs for which we advocate.